You have a stellar product. Consumers have an unmet need. Now you need to find each other.
Our CPG clients are consistently impressed with our knack for pinpointing untapped, lucrative consumers eager to purchase their products.
Leveraging SG360° Audience Insights, we can help you gain a deeper understanding of your best customers' emotional drivers and buying triggers – and find new customers just like them.
Our multi-source data warehouse contains 5,000 data points on 99.9% of the US population, resulting in more accurate personas for a better-targeted acquisition campaign.
Using our in-house expertise and advanced machine learning, we craft comprehensive profiles of your target buyers, prioritizing prospects based on potential purchase likelihood, outreach cost, projected profit per transaction, and your other key metrics.
Optimal Channel Mix
Leveraging the power of the SG360° Identity Grid™, we uncover the exact channels, online and off, where your prospects are most receptive to your messaging. Using this information, we model different channel mixes to find the one that will generate the best customer acquisition cost (CAC) to lifetime value (LTV) ratio.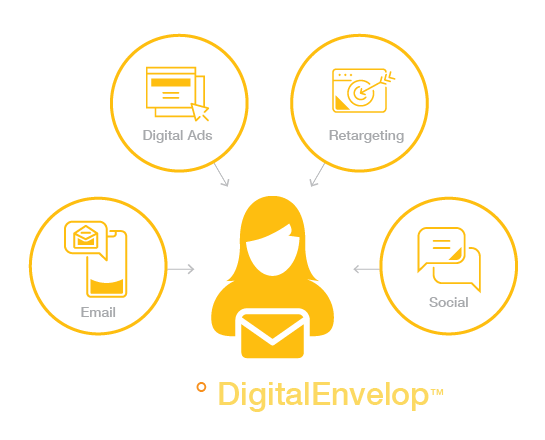 Tailored
offers and creative

that

elicit action
Armed with audience and channel mix insights, including your prospect's emotional drivers and buying preferences, we tailor your messaging, offers, and creative to each target individual and channel. The result is a campaign that uniquely resonates with your audience, setting your brand apart and positively impacting your ROI.
Leverage Data-Driven Retargeting
The average ecommerce conversion rate is approximately 2.5%1. Don't let the other 97.5% of your website visitors get away!
After de-anonymizing your anonymous website visitors, SG360° overlays on each individual the thousands of data elements we have on them.
With audience modeling, we then identify the prospects most likely to convert. We add to the data set the messages and channels they are most responsive to.
These enhanced personas allow us to integrate into your campaign an uber-targeted, highly efficient remarketing element that results in exceptional ROI.
And because we have all that consumer data, creative, and direct mail production under one roof, we have the ability to add direct mail, the powerhouse of retargeting, quickly and seamlessly, to reach unconverted prospects while they're still in-market.
1 Saleh, K. (2023, July 31). The average website conversion rate by industry (updated 2023). Invesp. https://www.invespcro.com/blog/the-average-website-conversion-rate-by-industry/
Product Sampling
Product trials eliminate many of the barriers to getting your product in the hands of your target personas. They can be very powerful for conversion and lifetime value, but costly if the campaign is not expertly designed and executed.
SG360°'s unique methodology allow us to create a product sampling campaign that is more efficient and drives higher acquisition.
Thanks to our dedicated finishing and fulfillment services, we can produce and ship your packaging to campaign specifications. Because we keep the entire campaign lifecycle under one roof, we eliminate handoffs, miscommunications and errors, leading to faster time to market.
Instant Insights for Optimal Outcomes
In the highly competitive CPG industry, with ever-shifting consumer behaviors, you often need to pivot on a dime. SG360°'s ResultsTrackerTM provides reliable, insightful data at your fingertips, to inform faster decision-making and campaign optimization.
Customized with your key KPIs, the interactive dashboard allows you to easily monitor your metrics in real-time, and share them across your organization, without the need for extensive training. Plus, you'll have the ability to enter any campaign scenario and view predicted outcomes almost instantly.
Consumer Packaged Goods, Retail
First-time mailer lowers cost to acquire a new customer by 380% and discovers an affluent, brand loyal customer segment.
The promotion generated $285,000 in revenue at 30% margin.