Accurately communicating thousands of Medicare options to millions of people is complicated. Direct mail for AEP marketing is easier and more rewarding to your return on investment than many providers realize. This article helps you properly determine where direct mail fits in your channel mix for AEP.
Why Medicare AEP marketing is so complex
Medicare Annual Enrollment Period (AEP) marketing is, and always has been, a numbers game.
65 — the age Medicare eligibility starts
4 — Medicare types (A, B, C, D)
51 — regulating entities (50 states plus the District of Columbia) with their own rules and regulations
40* — Medicare Plans
3,000+* — available plan options
54 — enrollment days in 2022
* Estimates for 2022
Then there's…
62 million+
… the number of Medicare beneficiaries that plan providers engage with to market their coverage products to. Put another way, it's more than 18% of the entire U.S. population. And that number will continue to grow for the next seven years as Baby Boomers relentlessly continue to age into the program.
So, the mission for Medicare AEP marketing is: Speak knowingly, accurately, AND securely, to 62 million people about their 3,000-plus healthcare options as legislated by 51 separate authorities.
That's a whole lot of rules governing a whole lot of choices to present to a whole lot of people. And did we forget to mention, you need to have your offer stand out amidst all the competing offers your audience is receiving? That's a lot to manage, especially within the extra-tight governmental approval windows of the AEP.
Direct mail is a double dose of marketing medicine
Direct mail does two things simultaneously better than any digital marketing channel.
It offers a near limitless capacity for personalization.
Its physicality makes it more memorable than digital marketing.
We have written before about the advantages physical marketing pieces have over digital, and why using direct mail retargeting with AEP marketing should be part of your campaign strategy, and what we said then has not changed in the least. Why not?
Today's direct mail capabilities empower you to deploy envelope-pushing data methodologies and state-of-the-art print capabilities to identify and engage in-market consumers one-to-one with:
Customizable copy and imagery
Relevant, individually tailored offers
Terms and conditions specific to their circumstances
A cadence that reaches them while they are still in decision-making mode
All of it presented in a physical package designed to increase engagement, brand recall, and keep your offers top of mind, leading to increased conversions and growing ROI.
Best of all, your target audience likes direct mail and trusts it implicitly.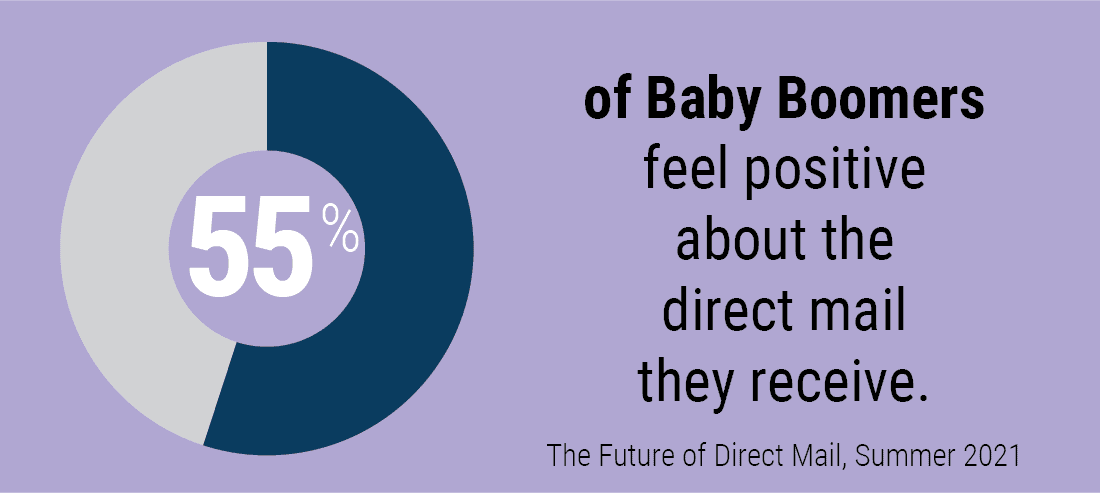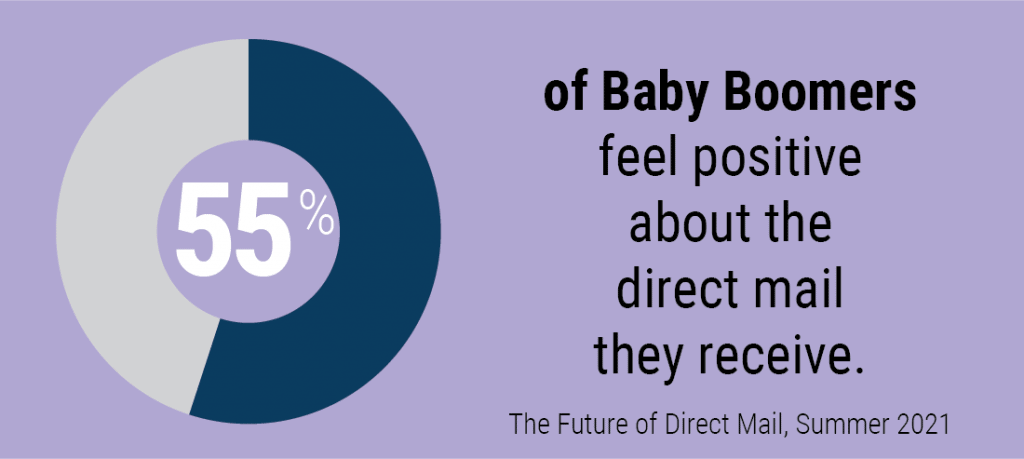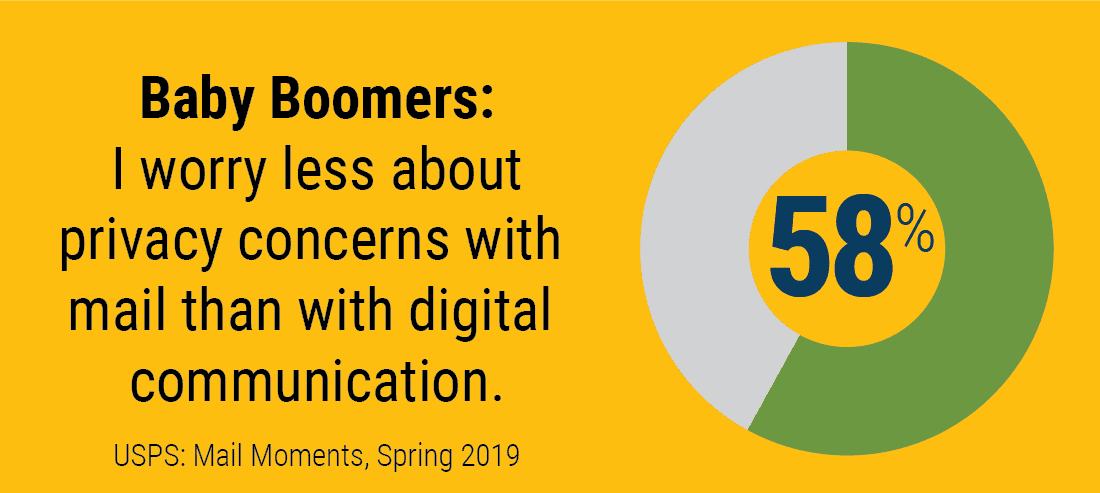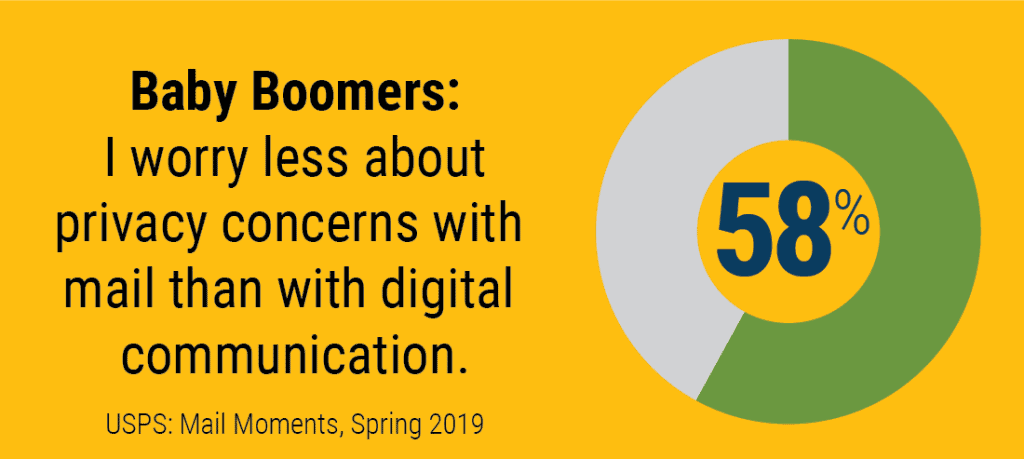 Inoculate against digital fatigue
Baby Boomers use online tools as much as any other generation. That interaction, though, leads inexorably to feeling overwhelmed by the amount of digital advertising they see daily. Brand emails, when read, are averaging 10 seconds of interaction. Meanwhile, Boomers are spending nearly 7 minutes a day sorting and reading their physical mail.
Not to say that digital channels are completely useless. When you pair direct mail with digital, performance improves.
In fact, 85% of English-speaking consumers the world over agree that their ideal form of marketing communication is a blend of digital and physical.
Still, there's that number… 62 million (and a few hundred thousand).
Personalization expertise delivers peace of mind
If the prospect of planning and executing campaigns with hundreds of variable assets has you feeling like David facing Goliath, relax. At SG360° we call that Tuesday morning.
Our healthcare clients choose us specifically for our expertise at programming and executing large, multi-component campaigns that deliver on time and get results.
They benefit from our:
Data analytics that find the most likely buyers
Expansive manufacturing solutions that scale to fit any need, from 10,000 to 10,000,000 pieces
Reduced cycle times to combat tight AEP approval windows
Decades of experience in direct marketing
Postal and logistics strategies that save precious marketing dollars.
Let us de-stress your 2022 Medicare AEP communications by contacting Jeff Melton, Senior Vice President, Sales, at 816-500-9645, or jmelton@sg360.com.