The 2023 USPS Promotions discount calendar is almost upon us, and we expect that—as in years past—first up will be the Sensory, Tactile & Interactive promotion. This discount is designed to promote multisensory marketing, and is a great opportunity for direct mailers to start saving on their postage beginning February 1. Final details and approval are forthcoming, but a postage discount of 5% for qualifying mail has been proposed. To take full advantage of this significant savings opportunity, direct mailers should start making plans now.
In this article, we'll look at
why appealing to the senses makes direct mail so effective,
an overview of what qualifies for the USPS discount, and
take a deeper dive into the benefits of using scent technology on your mail pieces.
Multi-sensory marketing = consumers remember you
Our senses are directly tied to how we form memories. The more senses involved in an experience, the stronger the emotional connection and the memory. Direct mail already excels at triggering visual and physical interaction. But there are plenty of opportunities to enhance those experiences and engage additional senses, which in turn strengthens brand connections. In fact, 42% of consumers find advertising more interesting if an interaction occurs.1
The Sensory, Tactile & Interactive promotion is very wide ranging in terms of what qualifies as it involves the ability to appeal to all the senses. Admittedly, some, like taste and hearing, are more involved than others to execute. But that still leaves a wide range of easy-to-execute options aimed at the remaining three senses.
Treatments that encourage mechanical/haptic interactions by the recipient include:
Pull tabs
Pop-ups
Complex folds/reveals
Clean release cards
Other tactile enhancements can be achieved through use of:
Textured paper stocks
Die cuts
Embossing/debossing
Specialty coatings
Visually, certain qualifying inks that have unique properties that catch the eye include:
Electrically conductive inks
Thermochromics that change color due to temperature variations
Photochromics that react to UV light
Light-reflective inks
Smell's unique role in multisensory marketing
Of all the senses, smell is the only one to instantly trigger emotions and memories because it has a direct connection to the brain's limbic system.1 75% of the emotions we generate on a daily basis are affected by smell.2 All other senses must first pass through an interpretive center for processing.
Scent also creates a "flow state," where one can lose the normal sense of time and be consumed in the moment. This heightened state can last up to several minutes.1 Further:
65% of consumers can recall a memory associated with a scent after 12 months.1
81% of consumers would choose a product they can smell and touch over one they can only see.1
Additional information on the affect and influence of smell on consumers reveals:
82% would spend more time in a place that was pleasantly scented.2
59% would spend more money in an ambiently fragrant environment.2
63% chose one store over another due to a fragrance experience.2
40% of consumers improved in mood when exposed to scent.2

Small wonder then that many large brands—including several financial services players—not traditionally associated with smell (like fragrance companies)-have been developing custom scents to heighten brand connections.
How to use scent on direct mail
There are three basic scent delivery processes, all of which are approved by the USPS as qualifying for the annual Tactile, Sensory & Involvement postage discount. All are easy to incorporate in direct mail printing, using either inline or sheet fed processes. You can also vary scents by audience group.
Manual fragrance release via rubbing/scratching
Manual fragrance release via the lifting of a flap
Automatic, ambient fragrance that requires no action from the recipient
There are dozens of readily available scents that cover a wide spectrum of categories, from environmental: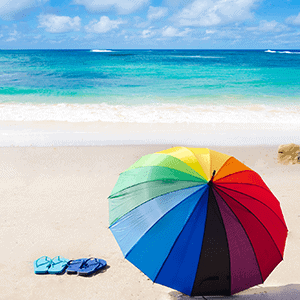 to consumables:
to products:
And so much more. Custom scents are always an option as well, though they take time to develop and perfect.
Multisensory marketing that pays for itself
Based on the proposed 5% postage discount tied to the USPS program, a mailing of at least 200,000 pieces could be executed using scent at a net savings, including the cost of the scent. It is not uncommon for large mailings (10MM and above) to see six-figure postage savings.
Your opportunity to appeal to the senses with the USPS multi-sensory marketing promotion begins this December. Contact SG360° today to learn how we can help qualify your multisensory marketing design with the USPS to start 2023 by saving precious budget dollars.
________________________________________________________________________
1 Alan Hirsch, Neurological Director of the Smell & Taste Treatment and Research Foundation, Chicago