Once again, the United States Postal System (USPS) is offering brands the opportunity to reduce their postage costs by 2-3% with the 2022 version of their Emerging and Advanced Technology Promotion, running from March 1 through August 31.
This annual promotion rewards marketers for using direct mail to promote interaction with specific evolving technologies that promise to engage consumers in new and exciting ways. This is an important opportunity for brands to not only save immediately on marketing costs, but to remain relevant in the constantly changing technology landscape.
Change: the only constant
Moore's Law accurately predicted that computing would dramatically increase in power, and decrease in relative cost, at an exponential pace, doubling in power about every 18 months. That rapid, non-stop evolution is what has made today's digital world a reality. Despite some recent indicators that the formula may be nearing its limits of accuracy, even a perceived minor slowdown in technological growth still leaves things evolving with blinding speed.
Recent tectonic shifts in consumer behavior, leaving marketers scrambling to catch up, may owe their origins to unforeseeable circumstances, but the results are no less observable. Brands have to stay on top of customer engagement trends or be left in the dust.
Consumers love "new"
New and improved beats tried and true every time… almost. New technologies tend to be willingly adopted by consumers if the perceived benefits conform to their personal desires and moral code.
To capitalize on this sentiment, for 2022 the USPS is helping brands that promote specific technologies using certain technology triggers. Here are four categories of technology where there's an opportunity for savings.
"Enhanced" Augmented Reality
Enhanced Augmented Reality is an interactive experience that depicts real world objects which are enhanced digitally using 3-D technology in a physical world.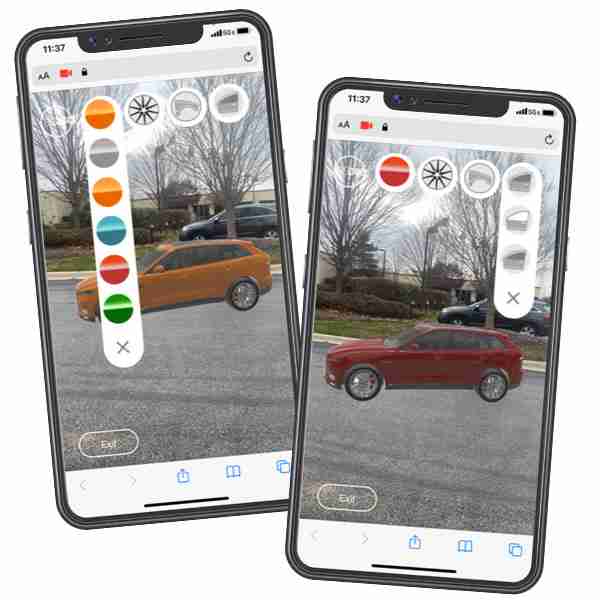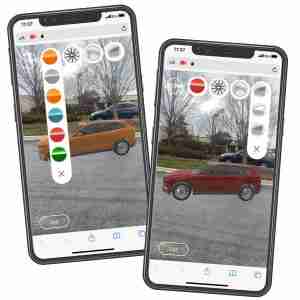 Technology trigger(s): Apps, QR codes, or barcodes
Postage savings for qualifying pieces: 2%
Integration with Voice Assistant
For basic integration, use standard voice commands to guide consumer exploration.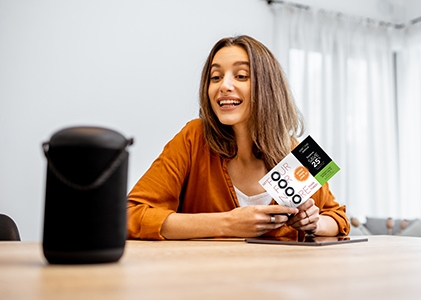 Technology trigger(s): Printed voice command
Postage savings for qualifying pieces: 2%
For advanced integration, create custom voice commands to deliver unique user experiences.
Technology trigger(s): Printed voice command
Postage savings for qualifying pieces: 3%
Near Field Communication (NFC)
Touching an NFC-enabled device, such as a smartphone or tablet, to an NFC chip embedded in the mail piece triggers audio/video experiences on the mobile device.

Technology trigger(s): Embedded NFC chip
Postage savings for qualifying pieces: 3%
Video in Print Technology (VIP)
Mailable interactive video experiences such as  shoppable video links allowing viewers to make purchases from inside:
a video
a 360-degree environment "look-around" video
an integrated video/picture where a mail piece viewed through a mobile device camera activates additional on-screen content
Technology trigger(s): QR codes, barcodes, NFC Chip, or Apps
Postage savings for qualifying pieces: 3%
Here is a comprehensive rundown of all seven advanced technologies and the discounts they offer.
Savings add up
A two-to-three percent discount may not sound like much, but at scale the savings add up quickly, and help offset postage rate adjustments. Here are examples of a client mailing that has four versions and the potential postage savings.
Example savings from one brand's campaign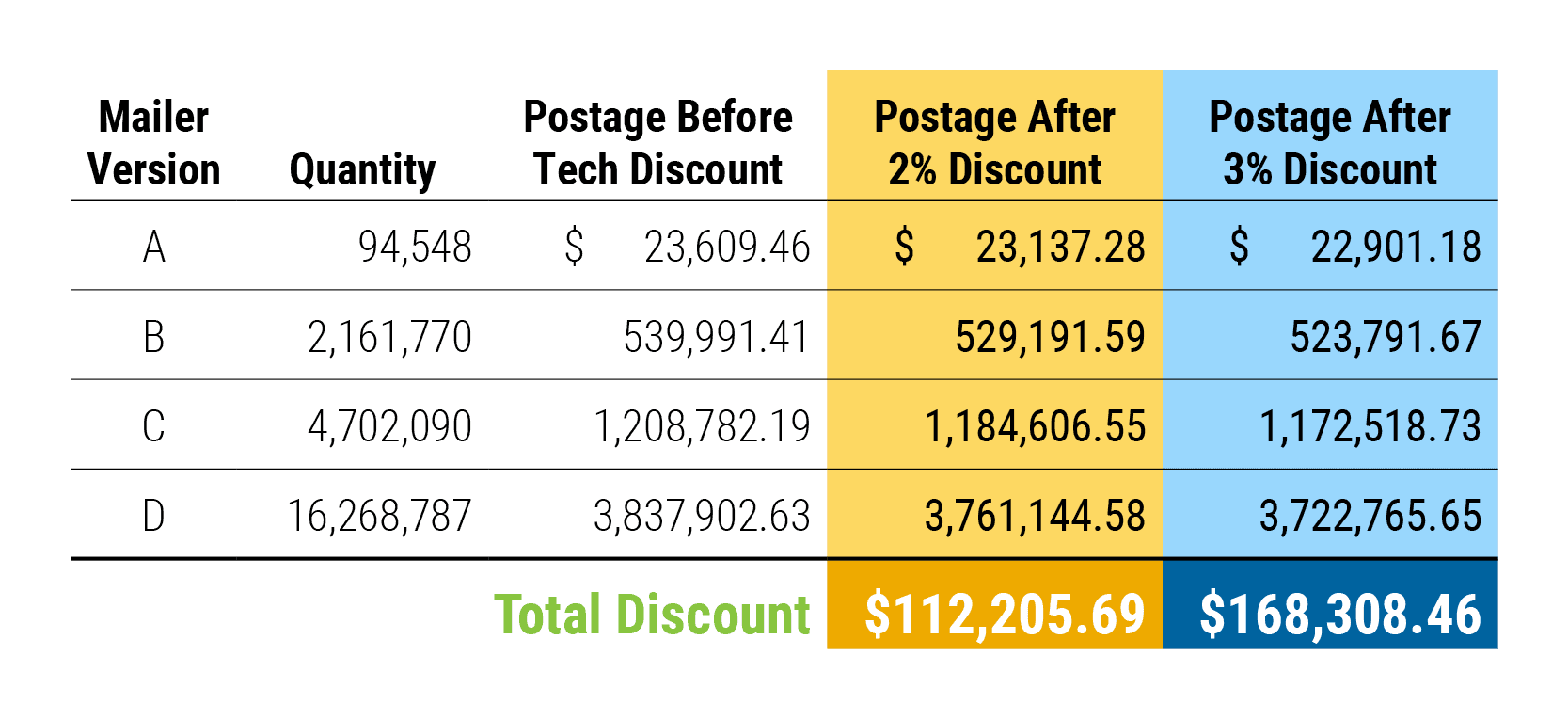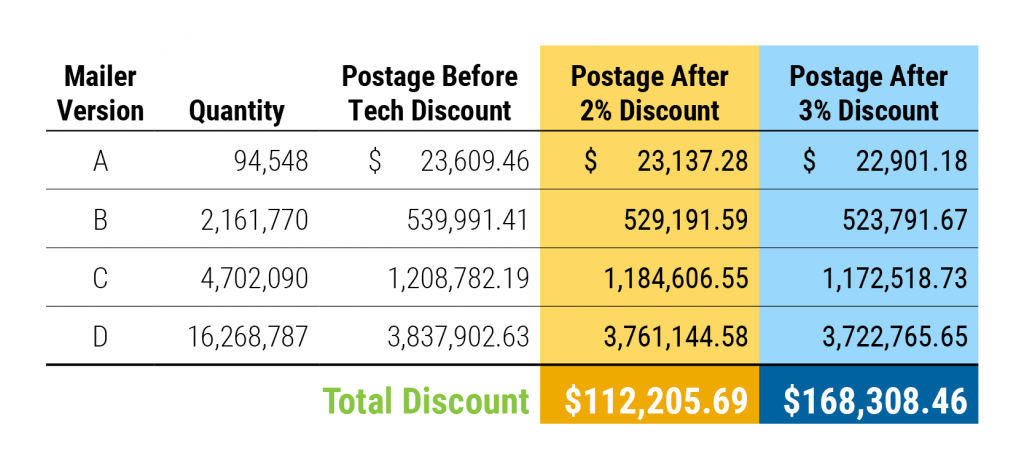 How to participate and save
Not sure how to create mailers that incorporate these advanced technology solutions? SG360° can help!
Our Structural Design team regularly develops new direct mail formats that increase response rates and beat control packages. They can help you understand how these promotional technologies work, and navigate the requirements for each technology to develop qualifying mailers and get them approved through the USPS.
To participate, brands must submit their mail pieces for review and approval prior to mailing (we can help here too!). This promotional registration window opened January 15, 2022 and remains open through the length of the promotion (August 31, 2022).
For more information on this promotion, and other ways SG360° can help you save big on postage, fill out and submit the form on this page!